Jackson Park transforms into tent city the day of the Chosen Few Picnic. From the VIP tents provided by the Chosen Few to the tents scattered throughout the park, you are bound to see individual expressions of creativity in tent décor. You'll see school themed tents with attendees' repping their old high schools and colleges, Greek themed tents in the colors of one's fraternity or sorority; tents for clubs and professional organizations and even themed filled tents filled with the comforts of home. Hosting a tent gives you an opportunity to separate yourself from the crowd with unique designs and personal flair.
Today, we are talking about tent style and décor. From color schemes, to the little extras you put in your tent to make it unique, tent décor can create ambiance even at an outdoor festival. I interviewed, Joi Basely, a long time Chosen Few attendee whose group creates some of the most elaborate and gorgeous tent setups each year and professional event planner, Eva Maria Bridgeforth, president of Events by Eve. She is experienced in creating fabulous and beautiful events for any occasion. Today, they are sharing tips, tricks and suggestions for creating a fabulous tent space.
TAKING YOUR TENT FROM DRAB TO FAB!
Our Interviewees:
Black Widow: My friends and I have created several themes for the picnic. I've done a Delta Sigma Theta themed tent in honor of my friend's sorority, a black, white and bling themed tent, a Bollywood style tent and more. What themes have you created at the picnic?
Joi: We've done Candyland, Paisley Park (a tribute to Prince), The House that Jack Built (a tribute to Frankie Knuckles), Bourbon Street, Girls Just Wanna Have fun, Mexican Fiesta and a Caribbean Theme. Normally we have six 10x20 tents!
Black Widow: So how long before the picnic do you decide on a theme?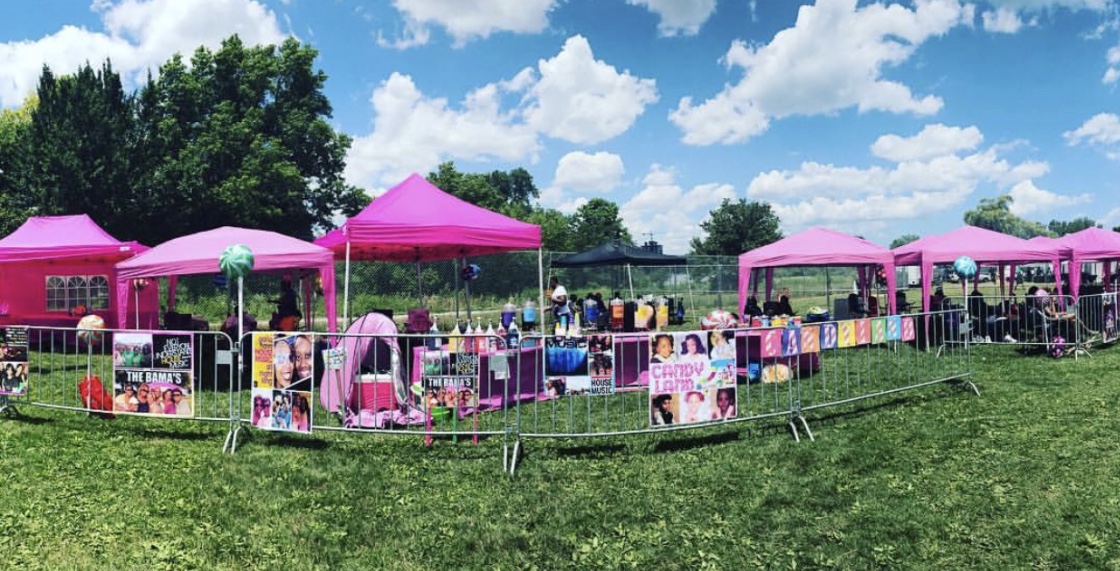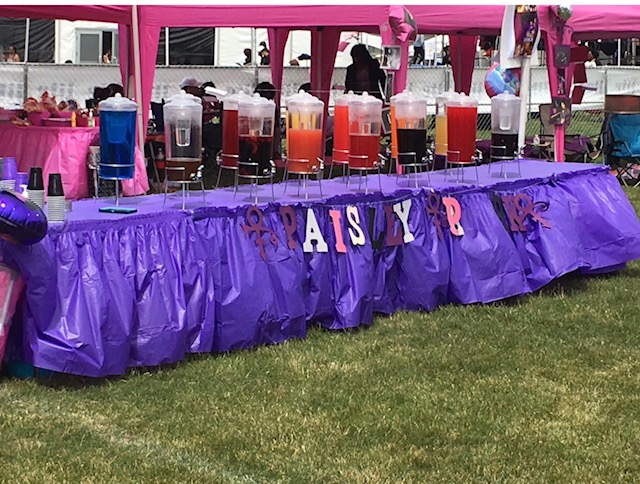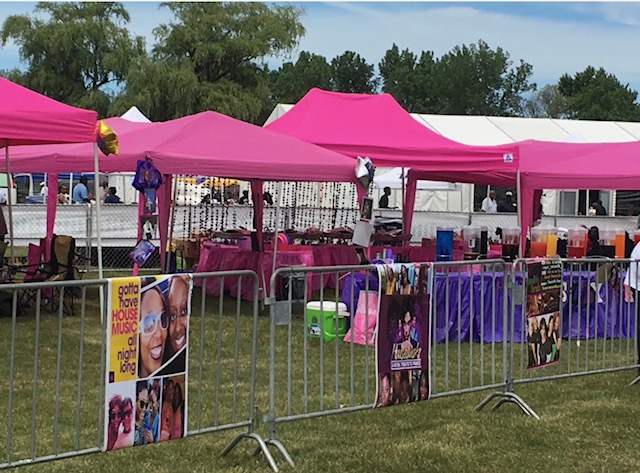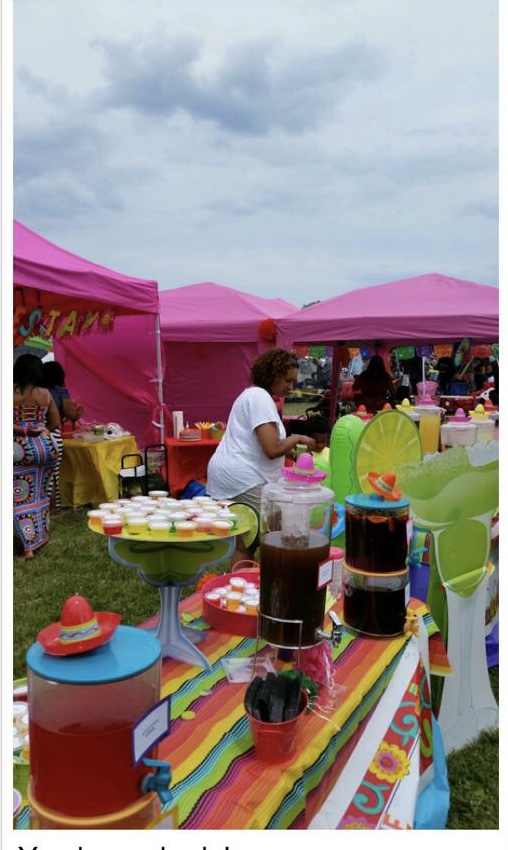 Joi: With the exception of Prince and Frankie Knuckles, we usually decide our theme a year before.
Black Widow: Same here! I usually think of next year's theme at the picnic! I already know what I want to do next year! Where do you typically purchase supplies?
Joi: I usually go to the online site, Oriental Trading and Party City.
Black Widow: I'm big on online shopping for deals! I love Amazon, Ebay and Etsy! Do you have items you use regardless of theme every year? What are they?
Joi: The only items we use every year are the racks for food and beverage containers. We get new decorations each year because we always change our color schemes.
Black Widow: I agree! I use those every year. I also have some cute little chalkboard signs and stickers for my food table and my portable bar. What are some Essential items for decorating an outdoor entertaining space?
Eve B: What people think is over the top is normal for me! [LAUGHTER] I'm big on tablecloths and linens. I hate plastic! You can get them online or rent them in any size and table. Linens can really help to transform a space more than plastic. It makes the space looks more inviting. Adding fabric, like Chiffon or Tulle can also really be cute! It's so easy and cheap to do. You can drape it along the sides of your tent to create a really nice dramatic effect. You can get it at Joanns or Michaels for 80 cents a yard. I love it as an inexpensive way to transform a space. I also love using wine goblets. I hate Red Cups! [Laughter] You can grab pretty plastic or acrylic wine goblets at the dollar store. Sometimes they come in different colors too. For an added special touch, I'd decorate each glass and put the person's name on the bottom of the glass with a ribbon in your tent color! You can walk around the picnic with your cute glass all day! It's just another inexpensive thing you can use all summer long! Your drink looks better in the glass anyway! LOL!
Joi: Food and beverage containers are a must!
Black Widow: For my tent, I have to have my color coordinated serve ware and tableware. I love Party City because you can get the chafing dishes in a variety of colors now and they are cheap. I also have to have my table in a bag's, collapsible trash bins and my portable bar. We use the small tables to create a cute sitting area and often have a themed centerpiece. My portable bar is just a great way to showcase our themed cocktails! How do you create a beautiful space without breaking the bank?
Joi: We budget a year in advance and start buying things early. We also do a lot of things DIY as well. The person in charge of our décor, Ricquel, is phenomenal!
Eve B: You really don't have to break the bank! The dollar store has so much to use. I grab cylinders for candles or sweet tables there often. You can also get a variety of candles in different sizes to create a beautiful tablespace. You can grab cute baskets from there too to add your utensils or create a unique centerpiece. I also use Michaels because they usually have great deals. For custom items, I absolutely love Etsy! You can find anything there no matter what your theme is. They can be very inexpensive too!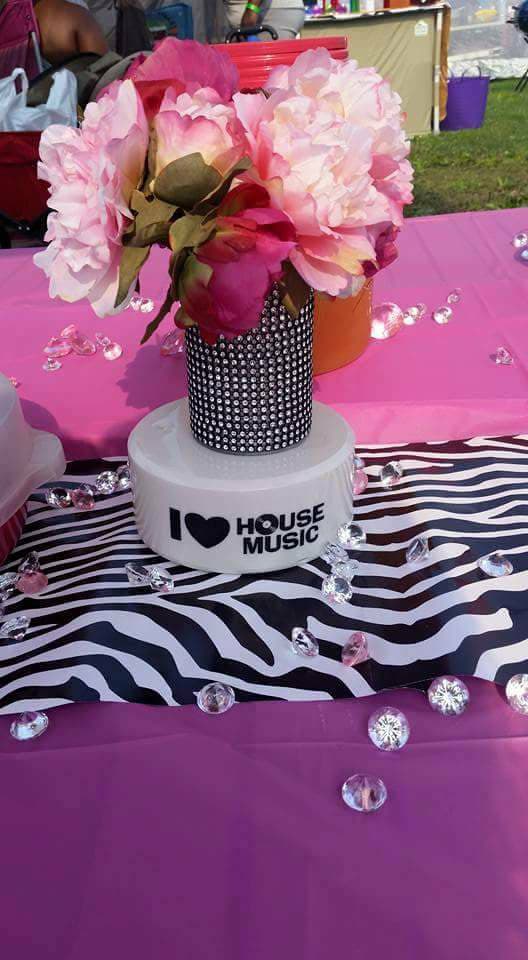 Black Widow: I agree! I'm usually on EBay, Amazon, and Etsy looking for items too! The dollar store is definitely a go-to for me as well. I actually found all of my summer beach tablescapes there! I just mixed and matched! Are you participating on the #WakandaForever theme this year? If so, do you have any cute ideas to share?
Joi: Oh yes!!! Our theme was very similar but we are going to put a special twist on it! It's a surprise!
Black Widow: Our group is doing a Wakanda Theme too! We already decided to do it when the movie came out so we felt like we were on the same page with the Chosen Few when the announcement was made! We are sticking to the colors of Wakanda for our color scheme and incorporating a twist on our favorite characters from the movie!
Eve: I definitely go back to fabrics and linens for this one! You can get African inspired fabric for your tent or tablescape. You can also create a cute invitation for your friends as well. I use a website called "Poster My Wall". It's easy to create flyers and invites and creates them as .jpeg files to send. The best thing is that it's free!! You could also create a candy/sweets table in Wakanda Colors! Obviously depending on the weather, you can fill cylinders with various candies in your color scheme. I love a company located in Frankfort, IL called, "Sweet Services Inc.". They have candy in every color and ship very quickly!
Black Widow: Thank you ladies for speaking with me. I really appreciate your time!
This year, the theme for the Chosen Few Picnic & Festival is #WakandaForever. Honoring the majesty, beauty and power of Africa and toasting the success of the #BlackPantherMovie, The Chosen Few says to come as you are or come and show your Wakanda Style! You can do that via your wardrobe or your tent décor! My tent will definitely be Wakanda Ready!
Are you and your friends doing a theme this year at the picnic? Are you participating in the #WakandaForever theme? If so share a few ideas with our readers!
Coming up next week: It's all about Festival Fashion and house headgear!
Until next time…See you on a dance floor!
Black Widow
Special thanks to our interviewees , Joi Basely and Eva Marie Bridgeforth! For more information on Events by Eve, Check her out at www.eventsbyeve.com or on Facebook @eventsbyeve.