The Chosen Few Festival is a daylong event filled with great music, good vibes and plenty of delicious food!!! It's a picnic after all!!! Whether you purchase your food from the many vendors that are available on site or enjoy food prepared by your tent hosts, it's just not a picnic or festival without great food! As I mentioned in the first part of my "Prepping for the Picnic" series, Tent hosts are at the park early, preparing dishes to be enjoyed by their guests. The menus range from the BBQ basics such as hot dogs and hamburgers to the more elaborate seafood, steaks and other meats in special seasonings and marinades and signature side dishes. Tent host often are amateur chefs and grill masters who take great pride in providing delicious food for hungry festival attendees.
As the weeks lead up to the picnic, I wondered, "What makes a great menu at a music festival?" I reached out to a few local chefs, caterers and grill masters for their advice. Hopefully it helps as you plan your Chosen Few Menu. If you have no intentions of cooking at the festival these professionals have menus planned that will be perfect for the Chosen Few Picnic & Festival and can help you cross one item off your ever growing to do list! Consider using their services for your picnic menu or for any upcoming events!
MENU PLANNING: CHOSEN FEW STYLE!
About our Interviewees:
Nicole Jordan, Owner and Chef of Nicole Jordan Catering, LLC. www.njcaters.com ; Facebook: Nicole Jordan Catering, LLC; IG: @nicolejordancatering
I am a formally trained chef, but I have been cooking for family and friends all my life. I started my second catering business, Nicole Jordan Catering, LLC in 2016 after leaving a 20 year career in corporate America and I've been on the move ever since! And, YES, I am a house head!!
Jesus Martinez, Grill master
I've been grilling for 20+ years. I've been cooking since I was a kid. My grandmother always had me in kitchen with her.
Julius Russell, Executive Chef/Owner of A Tale of Two Chefs Inc. www.taleof2chefs.com Email: chefjulius@taleof2chefs.com
I've been cooking since I was a kid. However, culinary life chose me while I was working in another corporate position. I'm a private chef, culinary ambassador to Chile and I host a series of popup restaurants based on my travels around the world.
Antonio Riley, Owner of Riley's Ribz BBQ Sauces & Seasonings www.rileysribz.com
I'm the creator and owner of Riley's Ribz, the sauces and seasonings that "Make your food say some'm"! I've been grilling and smoking delicious and delectable meats for 15 years.
Omar Bryant, Owner and Grillmaster, The Urban Smoke Café; 6134-38 W. North Avenue, Chicago IL 60639. 773-331-6809
I have been grilling for over 25 years, and competing for the last 8 years. My latest project, The Urban Smoke Café is opening soon on North Avenue. I also host a grilling competition each year called the Urban Myth Cook Off on July 21st in Calumet Park, IL (Bowling Green Grove).
1. What are some of your favorite items to make for a BBQ/Picnic/Music Festival?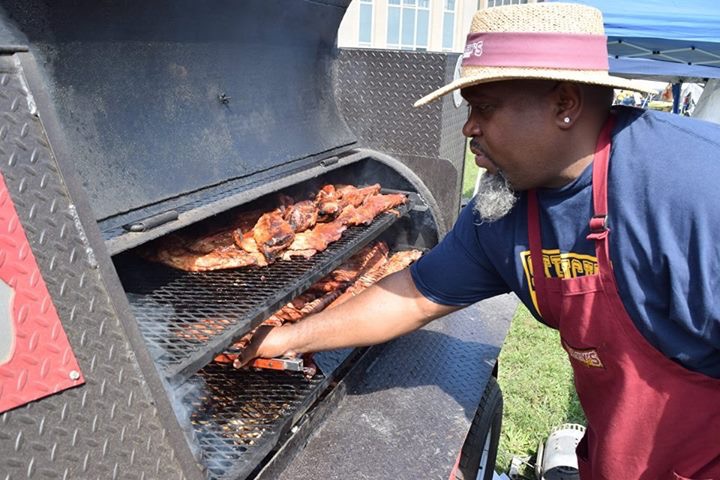 Nicole J: I love making the classics: Spaghetti, potato salad, coleslaw, pasta salad, rib tips, etc...But My ABSOLUTE favorite items to make for a Picnic are: Elotes Salad, grilled vegetable skewers with a balsamic glaze drizzle, jerk chicken, and cilantro lime marinated shrimp and watermelon skewers!
Jesus M: One of my favorite dishes to make for BBQ is 1800 chicken and my seafood boil (sausage, shrimp, corn and potatoes)!
Antonio R: Obviously with anything I grill, I start with Riley's BBQ Sauces & Seasonings! I stick with tried and true favorites. Any kind of chicken because everyone loves a great piece of grilled chicken and Hot Dogs and Hamburgers because they are standard favorites!
Chef Julius: For Chicago, I choose items that can deal well with extended low and slow cooking (ie: chicken thighs and ribs), items that feed large groups of people (ie: brisket or pork shoulder), quick cooking seafood (shrimp and salmon) and I choose salads that don't require chilling the entire time.
Omar B: My favorite items to grill are seafood and my fyewingz!!
2. What's the one piece of advice you could offer amateurs who may be preparing meals at the Chosen Few Picnic?
Nicole: KEEP IT IS AS SIMPLE as possible! If you can, prepare your meats and grilled items in advance and just serve hot the day of. This will keep you from slaving behind a grill all day and you'll actually get to enjoy the festivities as well! Also, pack extra supplies like cups, knives, serving utensils, warming grates and sternos, plates and ICE, etc. If you are partying and eating throughout the day, these items can go quickly and the last thing you want to do is run out of plates!
Jesus M. The advice I offer to people cooking at CFP is to keep it simple. Make sure you keep your meat chilled in cooler too!! You don't want anyone get sick out there.
Antonio R. My advice is to keep your menu simple and light. Drink plenty of water too. You don't want to eat to heavy in the midst of the heat and all of the dancing at the Chosen Few Picnic.
Chef Julius: Keep your menu short. Choose things you already enjoy. Space out your eating and drinking, it's a long day and don't try to do too much on your own, get and accept help.
Omar Bryant: One Word...PREPARATION!
3. What are the 3 essential items (outside of a grill and charcoal) that you need for successful food service at an outdoor festival?
Nicole: 1. Ice, Ice and more Ice. You always want to keep you food at the proper temperatures to ensure food safety, especially when outdoors in warm summer temperatures. 2. Warming Units and Sternos for hot items. I am BIG on food safety. And just like your cold items, you want to keep your hot food at the proper temperatures as well! Because the Chosen Few Picnic is an all-day affair you want to have enough chafing, grates, water pans, water and burners to get you from the start to the end of the day. 3. SERVING UTENSILS! Sometimes we are so excited for the day; we have all our plating and flatware and then we don't have anything to serve with! There is nothing worse than having to serve food with small forks and teaspoons! LOL
Jesus: Paper towels, a cooler with ice just for meat until it's cooked, Water/ hand sanitizer to clean your hands, and aluminum foil.
Antonio: Safety is always my 1st concern so I'd say a small fire extinguisher or enough water on hand to extinguish a fire. You need a good set of grilling tools such as a stainless steel spatula, Tongs and Fork. Lastly, Aluminum Foil! For some reason there never seems to be enough! The foil is a multi-use item especially for a BBQ/picnic.
Chef Julius: Chairs, head coverings and lots of WATER!
Omar B: You need clean water for Utensils, gloves and sharp knives!
4. Best way to prep and pack your food for the day?
Nicole: Pack up strategically so that you can save yourself time and trouble later! Make a check list for all your supplies and food that you will be taking. I like packing non-food items in clear plastic bins with lids or fold-able tops. This way you can easily see the contents. Also, pack like things together. All your Plating, napkins, cups should be together, then, other cooking supplies, then and cleaning items (i.e., paper towers, sanitize, etc.) AND, label each bin or box you pack. If you are bringing a lot of things, this will save you from the frustration of looking for stuff when you need it. Make sure you pack cold food on ice in food safe containers. And if you are warming food in advance, pack it up in heat safe containers for transportation purposes that will keep for an extended time until you get that food on a warmer!
Jesus M: Prep and season everything at home so when you get out there all you have to do is cook. Use zip lock bags or pans for meat so you can fit it all in cooler.
Antonio R: For an event like the Chosen Few, I'd definitely prepare my food the day before. The day of the picnic, set your items up using warming racks. Doing it the day before eliminates someone standing over a hot grill all day and allows everyone to enjoy the festivities!
Chef Julius: Start the evening before and make sure to get plenty of rest!
Omar B: All meats should be cleaned and dry. Apply rub, panned or bagged meat. It will make it's own moisture and spices will come off. Keep Meats on ice with a drainage. For Veggies, I like to season on the spot.
5. What if you don't want to cook? Do you have any Chosen Few Specials?
Nicole: Yes!!! I have a drop off service menu on my website. I include serving utensils, plates, flatware and napkins. You provide the Chafing grate and sternos, although I offer a Warming kit for purchase as well. The drop-off menu includes Jerk Chicken, BBQ Ribs, Rib Tips, Elotes, Salad, Spaghetti, Wings and more Picnic faves. They come in half pans (15-20 people) and Full pans (30-35)!
I hope you enjoyed this special article on meal planning for the picnic and take a look at my "Must Haves" for successful Meal planning and food service!!! Special thanks to the chefs, caterers and grill masters who participated in this interview!
Look forward to Pt. 3 of the Prepping for the Picnic Series coming next week!
As always,
See you on a dance floor!
Black Widow!