Photos by: Tracy Love/Vision of Love Photography
It was another OUTSTANDING night in Chicago House! Renaissance Wednesdays' hosted by promoters Reggie Corner, Ronda Flowers, and Robert "Koko" Walker, is a weekly party that showcases the best in soulful house music in an intimate environment. The club was packed early with people who were ready to hear the soulful styles of two of Chicago's hottest female DJ's; Dee Jay Alicia and Mz. Nicky D'Vine. It was the ladies turn to bless the tables at the Renaissance Bronzeville. The location was the perfect setting for a sexy and soulful evening of house music. The energy at Renaissance was high; the room was filled with familiar and friendly faces. These ladies have a loyal and faithful following and they came out to party, have a good time and take the stress of the day off.
First up was DJ and entrepreneur, Mz. Nicky Dvine. In addition to being a DJ, she is the president and co-founder of D 'Vine One Enterprises, a social networking group comprised of like-minded DJs who share the same love of house music. Mz. Nicky is a DJ that has spun all around Chicago for over 8 years. She kicked off the night with a set full of rhythmic emotion. Playing some of the latest tracks in house music, Mz. Nicky took the crowd on a soulful voyage through rhythm and sound. Her set was rich in melodies, lyrics and layered with expressive rhythms. Following Mz. Nicky was DJ and Producer, Dee Jay Alicia. Known in the house community as DJ Alicia or DJA, she has been spinning house music for the past 7 years but started DJ'ing in 1996. She's known for her talent, savvy marketing skills and most recently as the co-producer of two house tracks, "Rough" and "Gruv me" produced with Mike Dunn, featuring yours truly, released under Terry Hunter's T's Box Label, both of which went to #1 on the Traxsource Afro House charts. For the second year in a row, she will be one of the guest DJs at the Chosen Few Music Festival held in July. Her set was diverse; brilliantly intertwining soulful house tracks with afro-inspired beats, and then seamlessly blending some of the best in classic soul music with new soulful house tracks.
After their individual sets, they treated dance patrons to a "tag-team" set that felt like a nuclear bomb of "woman power". Dee Jay Alicia and Mz. Nicky beautifully combine talent, skill, and musical knowledge with just enough sass, style and femininity. From their hearts to the decks, these women are transparent in the way they play. You can literally feel the emotion through the music. These ladies play with passion and style while still making you sweat on the dance floor!!! Taking you on a musical journey, there were moments during the night where you could hear the crowd singing along with the tracks being played. It's not just great music to dance to; its music that makes you remember good times, special times with friends and the ones you love. It triggers the memory and you find yourself on the dance floor eyes closed, hands in the air, and bodies moving along to the rhythms.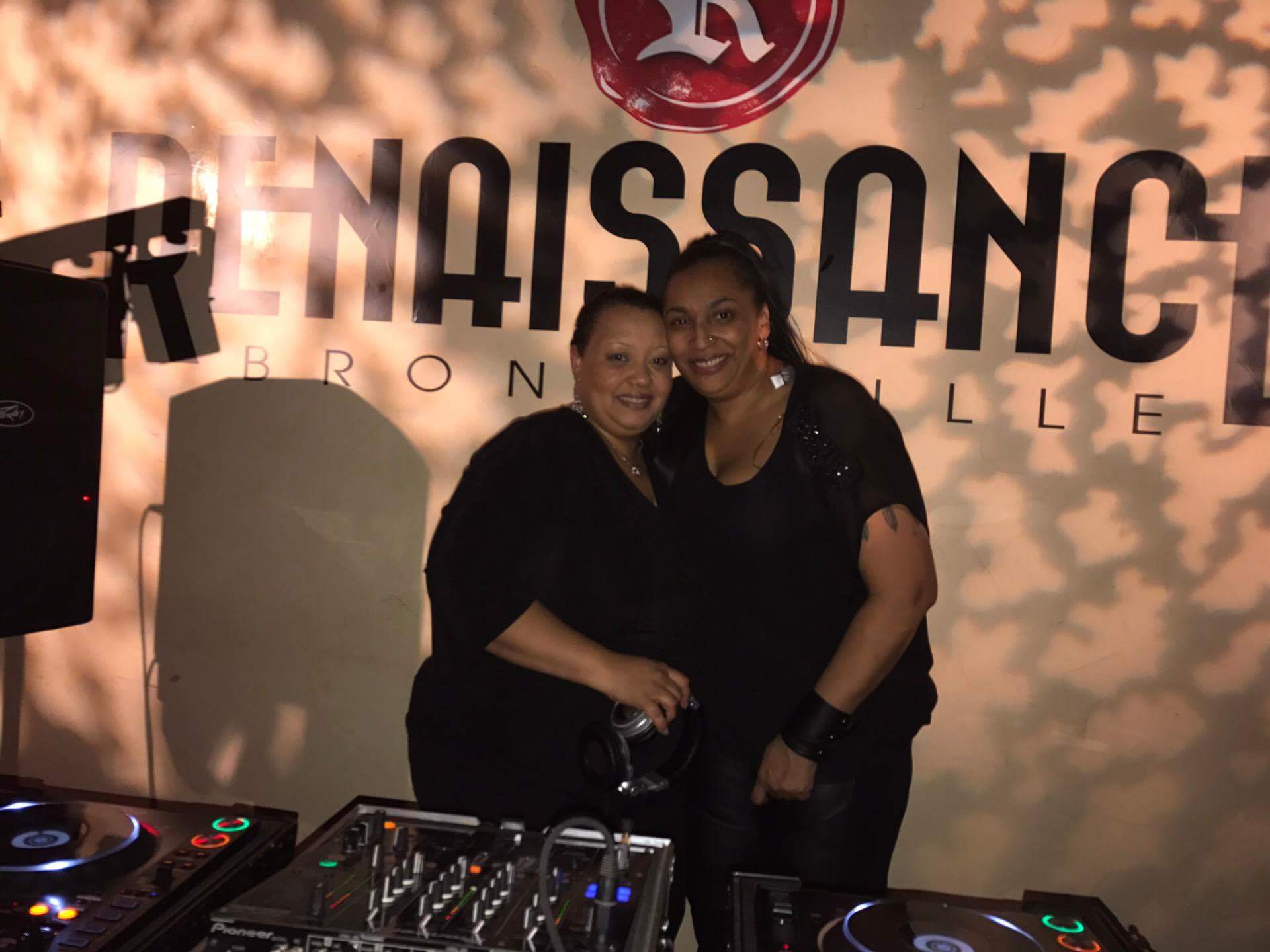 These two strong, talented women tore the roof off the Renaissance, beating down the decks and commanding the crowd in front of them. Each of their individual talents melded together flawlessly to create one incredible evening in music. Even more enjoyable was watching the two of them play together. These ladies are friends who truly enjoy spinning music together and it showed. You could feel the love and respect they had for one another. They were having a good time playing for the crowd and the patrons at the Renaissance enjoyed every minute of it. These beautiful ladies are masters in versatility; from sexy, sensual tracks to banging tracks that have you spinning and jumping around on the dance floor, these ladies know how to navigate the music, control the crowd and together they made another magical night in Chicago House!
Until next time…See you on a dance floor!
Black Widow
Check out Mz. Nicky on Soundcloud at www.soundcloud.com/thedvine1-mznicky
Check out Dee Jay Alicia at www.deejayalicia.com